What's the Best Travel Kennel for Your Dog? See Crash Testing in Action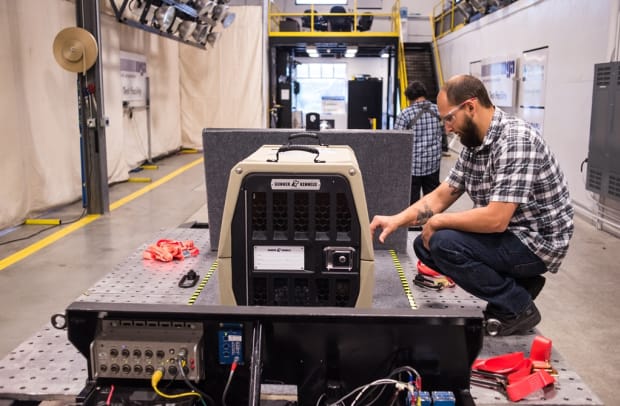 The nonprofit Center for Pet Safety (CPS) puts crates and carriers to rigorous crash tests. At its latest round of testing, this summer in Manassas, Virginia, conducted by CPS and Subaru, Parade magazine was there to see the dramatic results. In one simulated crash, in which the test vehicle was open, a life-sized, dummy dog was ejected like a furry missile from its metal crate.
CPS founder Lindsey Wolko named Gunner's G1 Intermediate kennel (buckled in with Gunner's 8-foot tie-down straps) as the 2015 "hands-down winner." Two carriers ranked tops, PetEgo's Jet Set Forma Frame and the Sleepypod Mobile Pet Bed. (For complete CPS test results, go to centerforpetsafety.org).
"After our findings in 2013, we were eager to continue working to bring accountability to the pet products industry, while highlighting the products that will help improve safety for the entire family during their travels together," Wolko said. "In partnership with Subaru, the 2015 studies were truly eye-opening and will once again help bring pet safety awareness to millions of pet parents around the globe."
Before a long road trip with your pet, take some practice runs so that you're both familiar with whatever crate and restraints you're using. If you're flying, attach these items to the outside of the crate: a sign that says "live animal," a luggage tag with your info on it and a photo of your pet in an outside pouch. For more tips on traveling with your pet, go toascpa.org or centerforpetsafety.org.